spencer Companion Program TEV001
spencer Companion Program™
Welcome to the official website for the spencer Companion Program. This site will give you all the information and resources you need to successfully set up and use your spencer® smart hub.
Need technical assistance?

855-677-3272
Overview
Your spencer smart hub will support your participation in this program by putting all of the integrated services you need, right at your fingertips.
spencer can provide you with:
Scheduled medication dispensing and friendly alerts
On-the-go medication management with the spencerAssist® app
Bluetooth-enabled health monitoring that connects with a scale, blood pressure cuff, glucometer, and thermometer (Contact the Spencer Health Solutions Customer Care Center for more information.)
Easy-to-use patient surveys provide your physician or pharmacist real-time feedback about your health
Start Unboxing
Playlist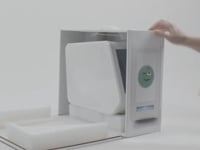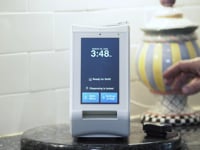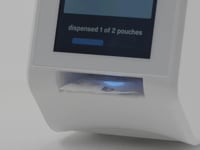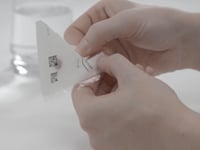 Unbox spencer
The spencer device comes in a specially designed carrying case. Simply open the case, remove spencer, and plug it in.
Be sure to store the carrying case carefully in case you ever need to transport it or return it.
Insert Refill
It is easy to load the Refill Kit into spencer. Simply open the top of the spencer device, insert the refill kit, drop it in and close the lid.
Do not force the lid down, spencer completes the action once the kit is properly settled in place.



Dispense Medication
spencer dispenses the right pills in the right dosage at the right time.
spencer will alert you when it's time to take your medication. Just tap "Dispense" and you're on your way.



Open the pill pack
The medication pouch has an easy-tear opening so you don't have to struggle with pill bottle caps.
Just tear down where you see the nick in the pill pack.


Resources
Document Library
Program Considerations & FAQsThis document provides you with an overview of the spencer Companion Program and answers some frequently asked questions.Click HerespencerAssist OverviewThis document will provide you with more information about the spencerAssist mobile app and provide you with useful links to download the app for your mobile device.Click Here
Previous
Next
FAQs
What is the spencer® smart hub?
The program includes the use of a medication smart hub called spencer that may help you take your medication as prescribed by your doctor. 
You will receive your prescription medication in individual pouches, all packed in a box which should be stored in your spencer device. When it is time to take your medication, spencer will "beep" to alert you. After you get the alert reminder, you push a button on spencer's screen and your medication pouch is dispensed to you through the device. You will then see a follow-up question on the screen, which you can answer through the device. 
Your answers help us understand how you are doing. spencer will automatically record that you've taken your medication as prescribed. 
What is the role of the spencer® smart hub?
The role of the spencer smart hub in the spencer Companion Program™ is to provide care management support and engage patients with quality of life questions in support of the study objectives. For additional information regarding the study and care plan, please speak with your healthcare provider. 
How long am I required to participate in this program?
 The spencer Companion Program is projected to last six (6) months in duration. 
How much does the program cost?
There is no additional cost to you for participating in the spencer Companion Program. The entire cost of the spencer® in-home medication dispenser, the pharmacy services, and delivery of refills is covered by the study sponsor. You will only be responsible for the usual cost of your medication, as determined by your insurance coverage. 
Why am I restricted to using the program pharmacy?
The program pharmacies are members of the Spencer-certified Pharmacy Partner Network™, meaning that its pharmacy teams have been trained to capture and respond to new health insights using the spencer smart hub. Spencer-certified pharmacists can ensure a higher level of support and telehealth outreach to ensure that you are successful in completing your therapy. 
spencer is designed to be easy-to-use and easy to set up. It will be delivered to your home before your next prescription is due and it will include an easy-to-use set-up guide. There are also videos available at www.spencerhealthsolutions.com to walk you through the set-up process. 
How will I get medications and scheduled refill packs?
Once your pharmacist is ready to deliver your medication, they will coordinate with you to determine the best date to start your prescription, arrange for delivery of the spencer device, as well as the delivery of the first medication refill box. Future refill boxes will be delivered directly to your home according to your prescribed dosage schedule. 
Who do I contact to add nonprogram therapy prescriptions to the program pharmacy?
Contact your participating pharmacy to discuss adding additional medications to the spencer medication refill pack. 
How do I return spencer® when the program is over?
Just before the spencer program is scheduled to end, a representative from Spencer Health Solutions will contact you with instructions about how to return the device. In the meantime, place all packing materials back in the box and keep the box in a safe place. Reusing the box and other materials helps reduce environmental waste. 
How do I authorize confidentiality?
Spencer Health Solutions is HIPAA-compliant. To review the privacy policy, please see www. spencerhealthsolutions.com/privacypolicy.
What information will be collected via spencer®?
spencer will collect the time your medication is dispensed and your responses to questions present on the spencer screen, as outlined by the study protocol and within the Spencer Health Solutions privacy policy. To review the privacy policy, please see www.spencerhealthsolutions. com/privacypolicy. 
Who will receive the spencer®- collected, patient information?
The information collected by spencer will be shared with your prescriber and pharmacy to support your therapy journey, and will be provided in a de-identified format (i.e., any personally identifiable information will be removed) to the physicians conducting the study for study-related use. 
Who will contact me during my program participation?
Your pharmacy may contact you to coordinate medication and spencer shipments. Your healthcare provider may contact you regarding your therapy status based on information provided by your spencer. The Spencer Health Solutions Customer Care Center may contact you to assist with spencer set up, usage, and technical support. 
Who do I contact regarding my therapy and therapy access questions?
Contact your physician to discuss details regarding your therapy, or your pharmacy to discuss details regarding access to your prescribed therapy. 
Who do I contact regarding additional information about the program?
Contact your physician to discuss details about your participation in the spencer Companion Program. 
Who do I contact to have nonprogram medications included in the spencer® refill packs?
Contact your participating pharmacy to discuss adding additional medications to the spencer medication refill pack. 
Who do I contact for technical assistance?
Spencer Health Solutions will be happy to assist you with any technical issues you have and can be contacted toll-free at: 
855-677-3272
8:00 a.m. – 8:00 p.m. EST
Monday through Friday 
For additional support, you may download the spencerAssist app on your iPhone or Android, which reminds you to take your medication while on the go and provides the opportunity to complete engagements with the program remotely. 
Support
Spencer Health Solutions
2501 Aerial Center Pkwy, Ste 100
Morrisville, NC 27560
Monday – Friday
8:00 a.m. – 8:00 p.m. EST
855-677-3272
Support.US@spencerhealthsolutions.com
Request assistance from our Spencer Health Solutions Customer Care Center.
© 2022 Spencer Health Solutions. All rights reserved.
TEV001-0809-22